Premium Newsletters On The Rise

Yonatan Wolowelsky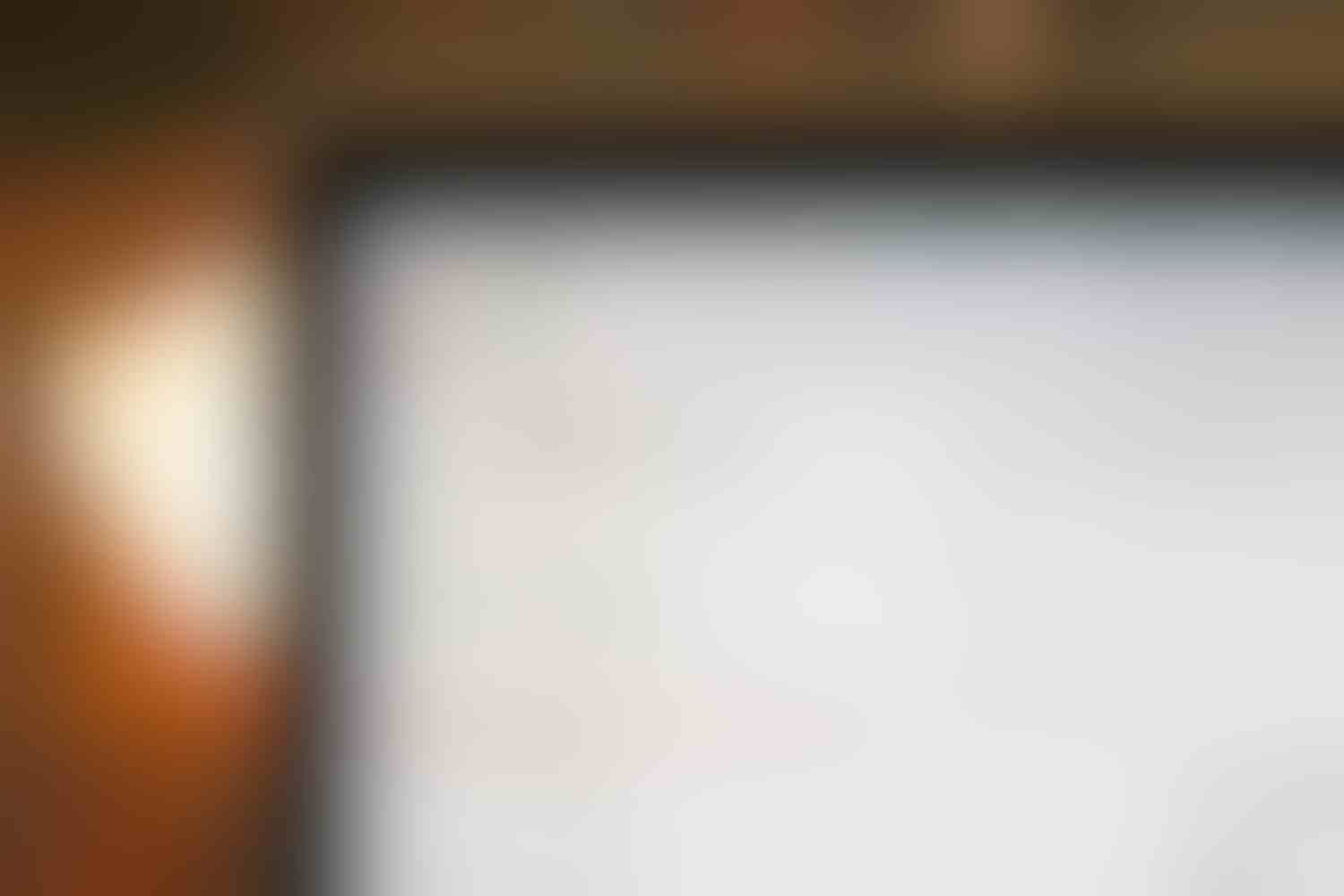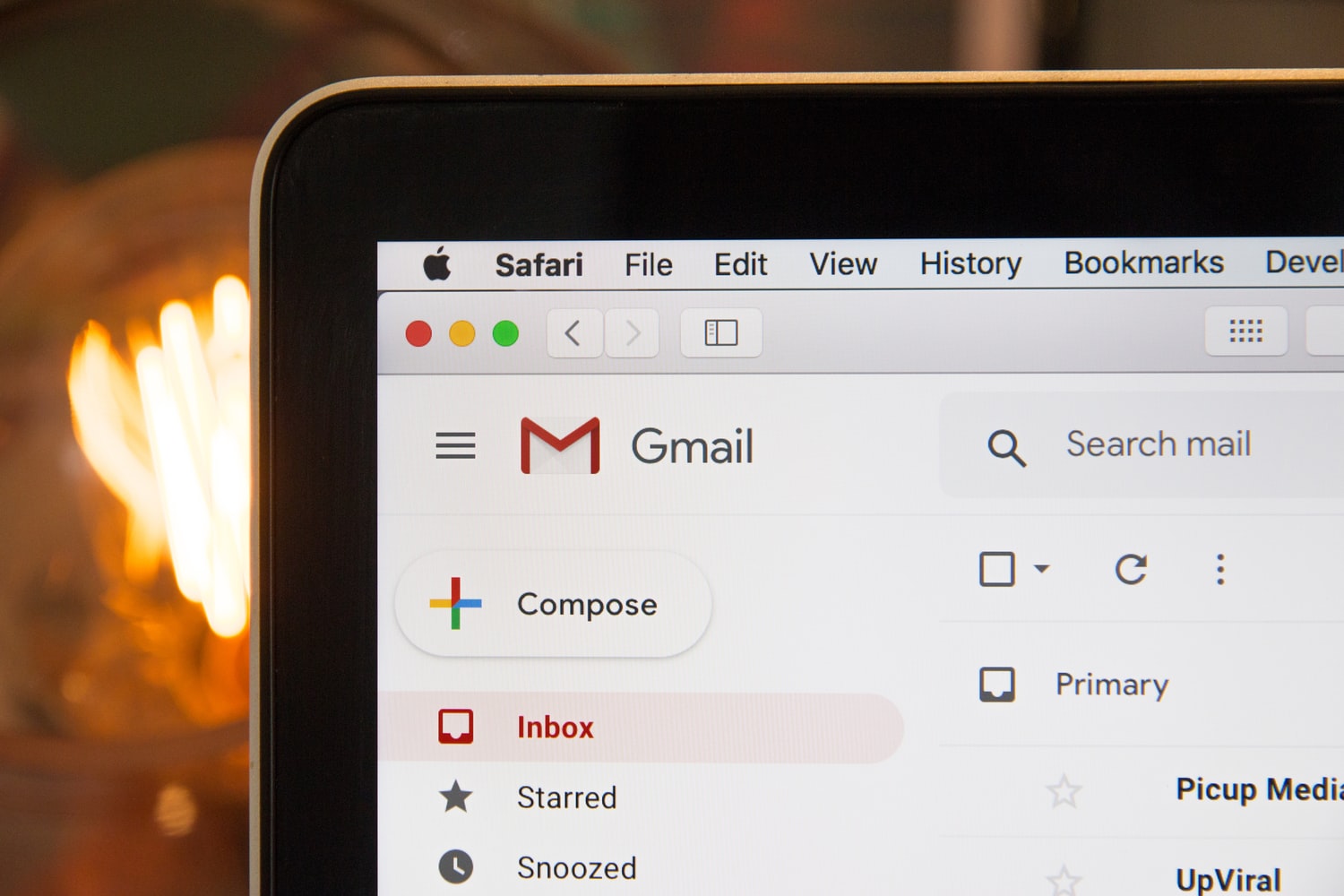 I'm excited to write the first Trends Everywhere blog post. Once a week I will cover a new trend I have read and researched before going to sleep. Keyword trends charts from the Trend Everywhere app and interviews with topic experts will be included to get a better insight of every trend topic.
The first-ever trend I'd like to cover is Premium Newsletters.
What are premium newsletters?
We all know newsletters, right? these things we get bombarded with to our inboxes after we accidentally checked the "I want to subscribe to spam" checkbox. So premium newsletters are the same, but with content people actually want to read.
Yes, I was also initially surprised to find out people are actively subscribing to newsletters, some even paying for it!
Why is this interesting?
1) Because email marketing, and email in general is on the rise.
2) Because of this chart: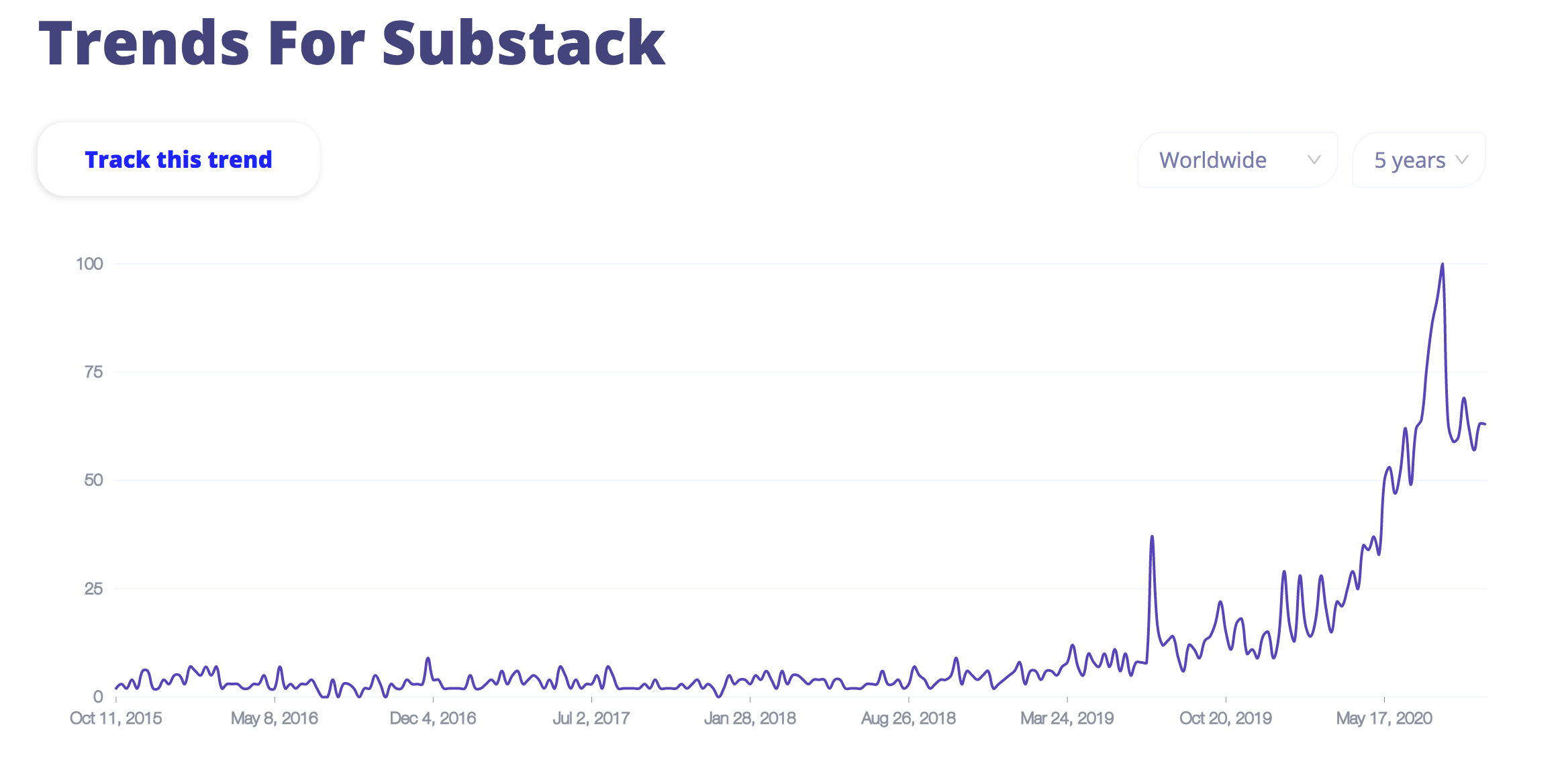 Substack is a web platform that allows newsletter creators to publish, manage, and monetize their content. It exists since 2017 but traffic and signups have raised exponentially only in the past few months.
3) Because independent writer make money from it. How much? Dru Reily crossed lately the $20K mark in MRR from subscriptions to his Trends.vc newsletter. Dru is a one-man show researching and writing business content in a very straight forward way, and people are paying to read what he has to say, directly to his inboxes.
Why now?
Casey Newton revealed last month he is leaving The Verge to write independently on Substack. On an interview to Sarah Jeong he mentioned he has thought about a similar move in the past, but since the Covid-19 pandemic started he figured out he can actually do a lot from his home office. "It's sort of like you're in jail, and you have nothing but time to think about what you'll do on the outside. That's sort of how I felt during the pandemic." He says in the article.

Marie Dolle started "In Bed with Social" because she was locked at her apartment in Paris during pandemic lockdown. She started in June and has now over 2000 subscribers on her English and French versions. "I've been writing for the past 5 years but never under my own brand." She says, "I Felt it was time to change that."
Notable to say, other writing platforms has risen during the pandemic. Apparently people have more time to do more of what they love. Writing is one thing.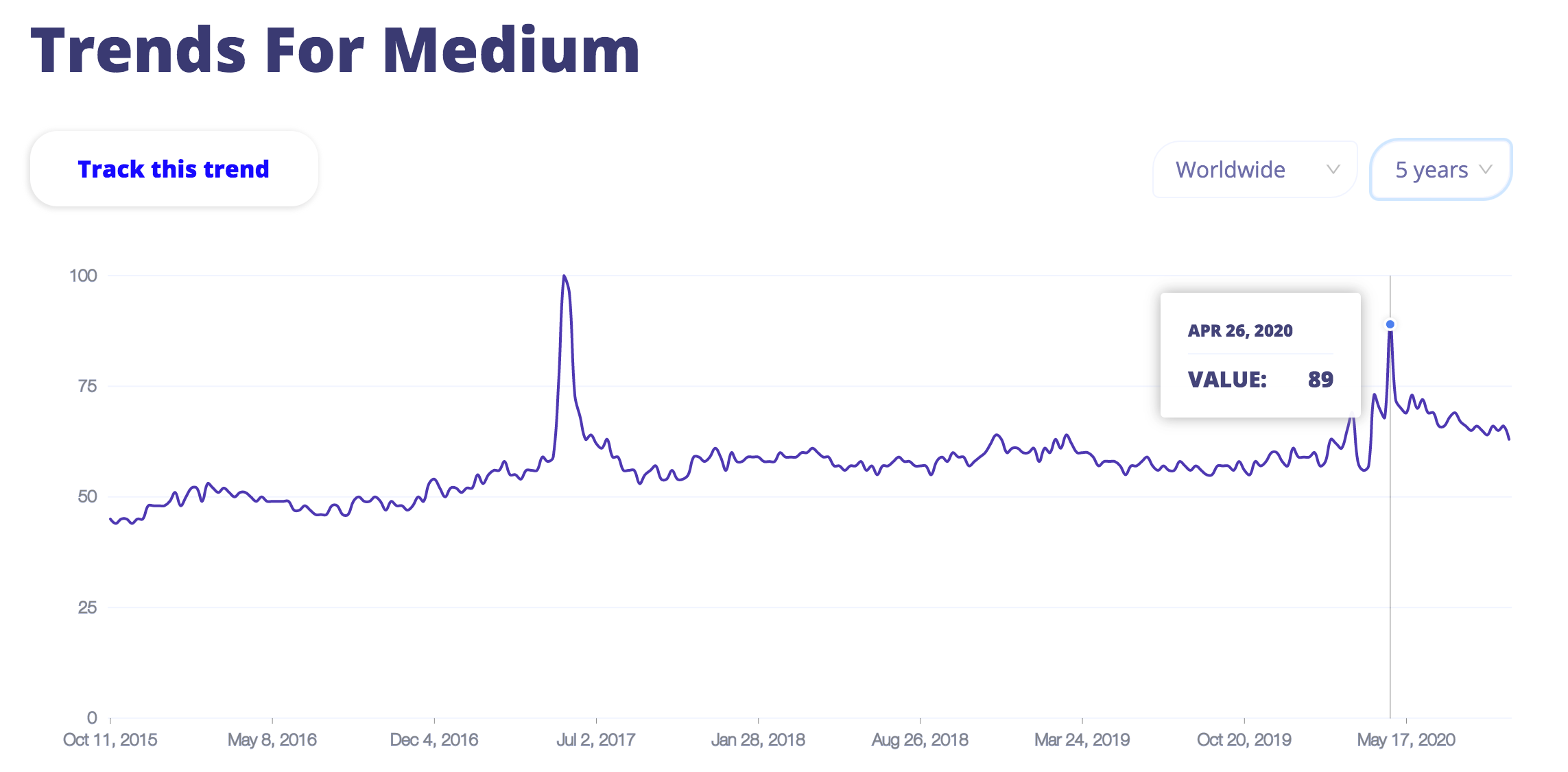 Ok, so you should I quit my job and start a premium newsletter business?
Short answer, unless you are huge and famous, nope. You're not going to be rich from starting a premium newsletter.
"Only Something like 3-4% of newsletter creators will really make a living from audience monetization" Says Marie Dolle. "People have to have in mind the difference between memberships and subscriptions. Subscription means financial agreement, whereas memberships means sense of belonging. I think people are willing to pay for a closer connection to a creator more than just the newsletter."
However, the added value of writing unique content is huge. If you are a service provider, a consultant or promoting a brand, you can benefit from having a premium newsletter by branding yourself as an authority in your field.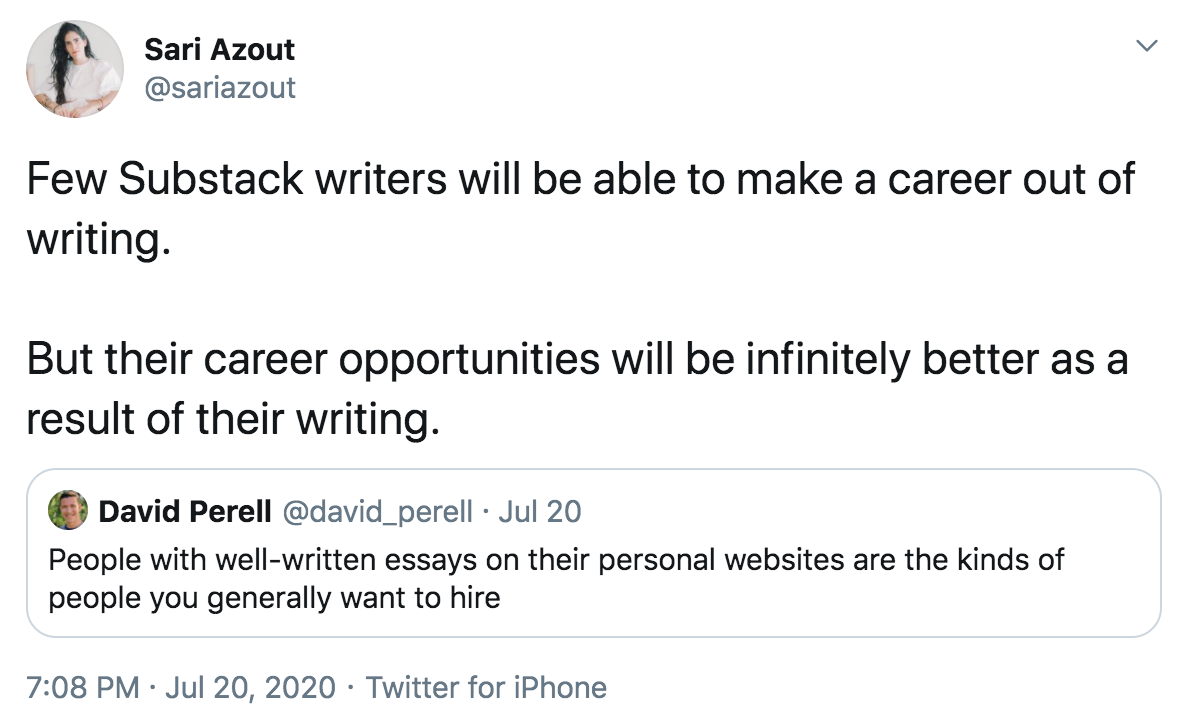 Let's get started, how to start a premium newsletter?
According to Marie, best to:
1) Find a niche, write consistently.
2) Join a dark social underground group for newsletter creators. Social media, Including Facebook, Telegram and WhatsApp Groups. A good examples for this are the private telegram group "Newsletter Geeks" by Anne-Laure Le Cunff (Reach out to her if you'd like to join), or Newsletter Creators on Facebook.
3) Learn from people that are doing in.
4) Subscribe to all those that are referenced as the best in the industry study them in detail: content format, landing page, thank you page etc.
5) The devil is in the detail. See what works, adapt and bring in your twist.
Our favorite premium business newsletters
2) 5 Dollar VC
3) Trends.co
5) Trends.vc
One last thought before falling a sleep
Maybe at times misinformation is everywhere, and people loosing trust in traditional and social media, audience prefer to consume their content directly from those they trust.
Thanks Marie Dolle for helping me with writing this post.